Puerto Rico To Assist Venezuela Opposition
By Carlos Camacho
Latin American Herald Tribune
October 4, 2018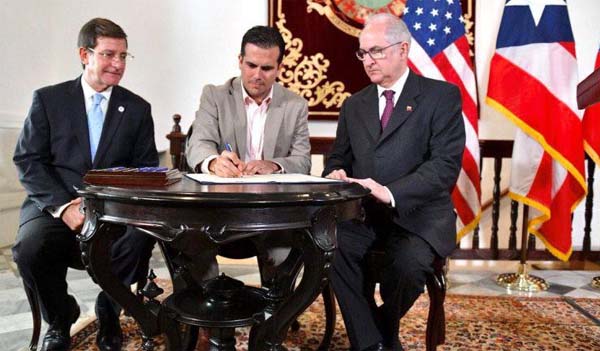 Puerto Rico governor Ricardo Rosello and Antonio Ledezma signing agreement
CARACAS -- Puerto Rico governor Ricardo Rosello on Tuesday called for an "immediate humanitarian intervention" in Venezuela and signed an agreement with representatives of the Venezuelan opposition to the Nicolas Maduro regime, promising the group humanitarian aid for its distribution in the crisis-stricken South American nation.
Rosello's actions come a week after U.S. President Donald Trump said "all options" were on the table to deal with the Venezuelan crisis and the Maduro regime, including "the strong ones" and the less strong ones.
The announcement comes as the US Navy ship "Comfort", a 1,000-bed hospital ship, is only days from stationing itself in neighboring Colombia in what Washington is calling a humanitarian mission to help the region deal with the Venezuelan exodus. The U.N. said Wednesday morning some 2.6 million Venezuelans had exited the country over the last few months, escaping food and medicine shortages, hyperinflation and a quickly deteriorating security situation.
A summit will also be held to determine Venezuela's transition to democracy on October 20 and 21 in San Juan, Puerto Rico's capital, with other leaders of the Venezuelan opposition, Rosello also said. They hope that a Commission for the Reconstruction of Venezuela will emerge from the summit. A list of the opposition figures that are to attend the summit was not made available.
Former Caracas mayor Antonio Ledezma, a fugitive of Maduro (he escaped house arrest months ago) signed the agreement with Puerto Rico for the local opposition, the most ambitious international maneuver yet of the group. Puerto Rico's secretary of state, Luis Rivera, witnessed the signing.
In a Spanish-language tweet posted shortly after the signing of the agreement, Governor Rosello labeled the Maduro regime a "dictadura" (dictatorship) and gave some detail about the plan.
"Puerto Rico, the United States' territory closest to Venezuela, offers itself as a logistical center for channeling initial humanitarian aid in the moment the dictatorship in that country ends," Rosello wrote.
During the press conference, Rosello told Puerto Rico media that "what must happen is that the dictatorship is eliminated. We are defining what is going to happen that day, after the end of the dictatorship and which will be the steps to take. This has already been discussed on many levels."
"Puerto Rico will support the transition towards a better Venezuela", Rosello stressed. "Puerto Rico will be a collector of aid and support for Venezuela".