Alert: Cuban political prisoner on hunger strike is near Death
Cuba Archive
October 5, 2018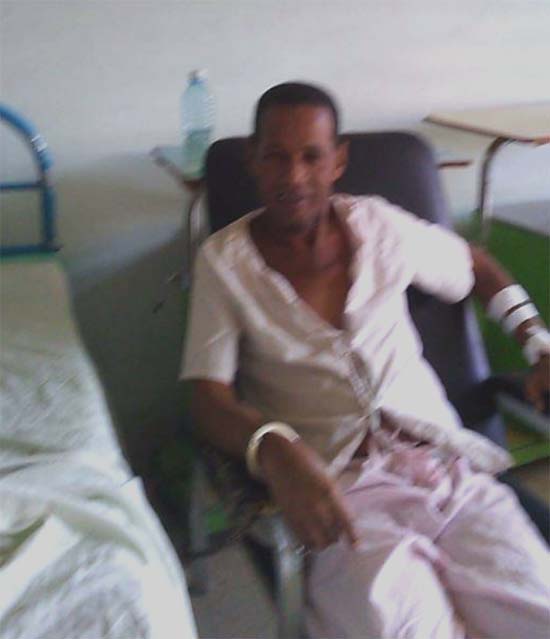 Tomás Nunez Magdariaga
October 5, 2018 . On the 52nd day of a protest hunger strike, 66-year-old Tomás Núñez Magdariaga is in serious danger of critical kidney failure. He is kept chained and in isolation at the penal ward of the General Hospital Juan Bruno Zayas in the eastern city of Santiago de Cuba, guarded by Ministry of the Interior agents. Transferred there last week from Boniato prison, his family has been prevented from seeing him since September 24th.
Nuñez was sentenced to one year of prison -a sentence ratified last September 11th- for making threats (" amenaza "). He insists on his innocence and demands to be released. The sole alleged witness of the so-called crime, a confessed State Security informant, was not allowed to testify at the trial. Given the increasing international outcry, the accuser was interviewed yesterday by the Prosecutors' Office, where he was threatened with charges of perjury after confirming he had been ordered by authorities to fabricate the allegations. ( See his brave testimony.)

Nuñez, a human rights' activist of the peaceful opposition movement UNPACU (Unión Patriótica de Cuba) and the Cuba Decide initiative for a national referendum, was first held at the detention center "Operaciones Criminales" of Santiago de Cuba. The facility lacks electricity, is plagued mosquitoes, and is famous for its inhumane and unhygienic conditions. He had already served a one-year political sentence in 2017 for having "subversive" posters and had suffered torture and other cruel, inhuman, and degrading treatment in prison.

International human rights' organizations, the Secretary General of the OAS, the White House, and U.S. Senator Marco Rubio, among others, have demanded Núñez's release. Many leading newspapers around the world have reported on his case.
Cuba's peaceful opponents and other members of civil society all over Cuba face persistent violence, persecution, and all sorts of arbitrary and serious abuses from state agents. Dozens of UNPACU activists are currently imprisoned.

Cuba Archive has documented 13 Cuban political prisoners and 9 non-political prisoners having died in protest hunger strikes. (See our report and database.)
TAKE ACTION – EXPRESS YOUR CONCERN FOR TOMAS NUÑEZ MADARIAGA AND REQUEST HIS IMMEDIATE RELEASE

Call Hospital Juan Bruno Zayas, Tel. +53 2264-2016. (We suggest a brief and polite statement as soon as they answer the phone. When we requested information on Nuñez, they call was cut off.)

Write to or call Cuban diplomatic missions. (Contact information is often online.)

Circulate this alert.

Contact
Patriotic Union of Cuba (UNPACU)
For information on Nuñez Madariaga or UNPACU, contact:
Luis Enrique Ferrer, Representative Abroad, Miami, Tel.: +1 786 451 8998 / Email: unpacu@gmail.com; Javier Larrondo, Madrid, Representative in the European Union, Tel.: +34 647 56 47 41; or José Daniel Ferrer, Executive Secretary, Cuba, Tels: (+53) 58807751 / (+53) 22695367.

Cuba Archive
For additional information on documented deaths from hunger strikes and of prisoners, please contact info@CubaArchive.org or Tel. (973)701-0520.