A Very Interesting Account of Events, at a Hospital in Holguin, Cuba
By Osmel Ramirez Alvarez
Havana Times
November 20, 2018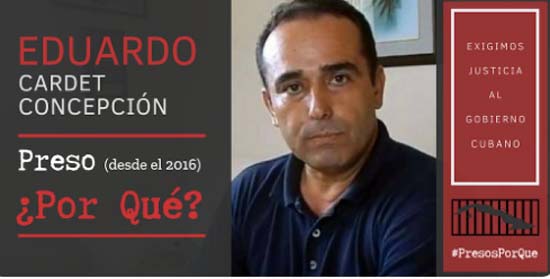 "Prisoners why?" campaign by the US government
In Holguin recently, at the Vladimir I. Lenin Hospital, keeping tabs on my wife's surgery to get her gallbladder stones removed, I spoke to lots of people. Patients and their partners ended up becoming very close and sharing lots of stories waiting long periods of time in appointments or outside the operations room.
Many subjects for hypothetical articles appeared to me as if by magic, but I didn't want to be repetitive and even embarrassing. I have already said a lot about the critical state of our well-designed public health system, which is free, but "costs" many workers and a lot of money, more than what a normal worker earns, to "make ends meet".
The most interesting thing that happened (which led me to write this article) was a conversation I had with the companions of a patient from Velazco, belonging to the Gibara municipality, which isn't too far from Holguin city. Humble and very trustworthy people, they happened to be neighbors of dissident doctor Eduardo Cardet, spontaneously telling me what they knew. And I could sense what they didn't know too.
"He's a brilliant person, really good. And a wonderful doctor. As is his wife. She sees my mother," the woman told me.
Her husband, who was more eloquent and knew more about the subject, continued: "he is a dissident and they took him violently from his home. He is now locked up and it's a shame because he had a bright future ahead of him. It would have been better for him to go on a mission abroad and then desert, he would have had his life sorted. But, he got mixed up in politics and look what they've done to him."
"They say that he was even beaten in jail and he has been refused parole. His wife is lovely, an attentive doctor and she never says anything about it, at least outside of her family circle. She continues to work, but people are saying that she's gone on leave now because she is going to have an operation. They don't have a good life, on the contrary, they live very modestly in a ramshackle house. That boy ruined himself by getting mixed up in that business, poor lad," he ended.
To he astonishment, I told him that I was an independent journalist and that I knew a bit about Cardet's case as I check independent media on the internet. Pulling out my phone, I showed him the news about his neighbor and a video from the IACHR Commission that took place in Colorado, US, where the political prisoner's sister gave his testimony. He was surprised.
Like the vast majority of our people, he doesn't use the Internet to read the news, because it is very expensive and inaccessible, and so they only end up watching official news and reading official newspapers, in which only the "convenient" about Cuba's reality appears. The rest doesn't suit them.
That's why Cardet's neighbors knew less about his situation than a Cuban in Australia or Miami. They were very surprised to learn that he had such great support from international organizations and that he had been declared a prisoner of conscience. They didn't even know that he was linked to the recent problem of Cuban diplomats at the UN General Assembly, as part of the "prisoners why?" campaign that the US is promoting.
"Nobody over there knows that this had partly to do with Cardet. Even I believed what they were saying, that he was just another US lie to justify the blockade," the dissident's neighbor said, still in shock.
"I don't advise anyone to get mixed up in politics, while Raul and those old generals are still alive, nothing will change. The Revolution was a beautiful thing but this country isn't and never will be what we fought for and there's no way of fixing it in the next 10 or 12 years, at least," he said.
I explained that in every country where honor is lacking for some reason or another, there are always individuals who give up what's convenient and pay the tough consequences of carrying the honor of many on their backs. "They are necessary," like Marti once said. That, even though the horizon is still dominated by shadows, somebody has to continue to pave, with a great deal of effort and work and in spite of brutal repression, the path towards the light.
It was a beneficial conversation for both of us, there's no doubt about it. It was very interesting for me to learn these accounts of events from people who know Cardet from his neighborhood and can confirm his veracity (which I never doubted), which I had read about him.
How false is the government's argument that Cuban dissidents don't have the support of our people. They have it where they can, in their most immediate circle of action and abroad, where they can make their messages heard beyond the blockade on alternative media, imposed by the Cuban government's media control.
They were very valuable accounts. Cardet's neighbors implored me not to reveal their names when I told them that I would write this interesting story down in an article. Further proof of the fact that Cardet's struggle and that of many other brave fellow Cubans is necessary if we want a better Cuba.
It's also terrible to sense a Cuban's fear of joining the system's "blacklist", even though they are only saying what they think or speaking the truth which unsettles those who hold power.