Arbitrary Arrests in Cuba: Fact or Fiction?
By Eloy Viera Canive (El Toque)
Havana Times
September 29, 2019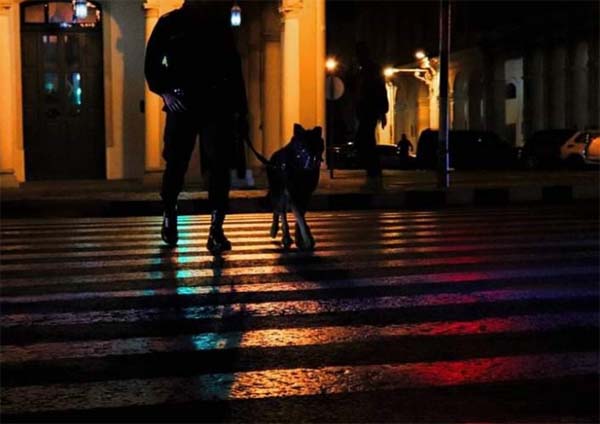 Police in Cuba. Photo: Alejandro Del Rey Abad (El Toque)
A police officer in a patrol car stops the car you were traveling in and arrests you for an alleged robbery that you have no idea about, and which they never ask you about in the nearly six hours you're in their custody.
A plain clothes agent stops you as you come out of a "marked" home and you end up arrested for nine days, with charges of being an "illegal domestic migrant" which is hardly ever verified.
A private taxi driver offers you their transport services and two blocks later, orders two police officers in a patrol car to take you down to the nearest police station. The police officers carry out the transfer, duly obedient and without asking themselves whether they are illegally arresting this person or kidnapping them (which is the same thing).
A couple of men and (in some cases) women post themselves outside your building and whenever you try to leave the apartment building, they "recommend", "ask" and finally "tell" you that you can't even go to the street corner. Day breaks and you find yourself under house arrest, no matter what your plans were for the day.
None of these situations are out-of-this-world. They are happening in Cuba, although there are always people who deny this or make fun of them showing the results of these kinds of actions.
Some weeks ago, police authorities in the Holguin province arrested Journalism graduate Jesus Jank Curbelo, while he was collecting information for a feature on the life of a rural town.
A police patrol car stopped the car he was traveling in and took him to the Mayari Police Station, claiming alleged robbery charges. In spite of being an alleged thief, when they got to the station, he was never told the facts of the robbery he was being accused of committing (charges) and absolutely nothing was said about the complaint that had been theoretically formed against him.
He wasn't allowed to leave the Police Station lobby for six hours and he was taken into the interrogation room on more than one occasion. In spite of restricting his movements, they never raised an Arrest Record against him, so he was never officially arrested. Without this document, and legally-speaking, Jank could have walked right out of the building where he was being held and nobody could have accused him of evading justice.
But, he didn't. He knew that he wasn't the victim of an isolated event and that the protocol wasn't the result of a "deformation" and lack of civic spirit on behalf on local authorities, but rather the reproduction of a common situation that has been assimilated by many people as something legal and legitimate, especially by his captors.
Just days before, Ricardo Fernandez, political activist and independent journalist, had been "arrested" without even being accused of a crime. Unlike Jank, he wasn't held in the lobby of a single police station, but inside a jail cell in several.
The proceeding he was subjected to was based on Decree-Law 217, which lays out internal migration regulations for Havana city. However, what really triggered the police's intervention was a visit Fernandez made to the Ladies in White headquarters. Ricardo's "deportation" was unobstructed and he was locked up for nine days.
Not long ago, another Journalism graduate and contributor to Diario de Cuba, Yoe Suarez, approached a motorbike, the kind that offer transport services in Guantanamo city, and ended up under arrest at a police station for trying to interview, among others, Roberto Quinones, an independent journalist who had been sentenced by the Court in this eastern municipality to a year at a labor camp for "contempt".
On Saturday August 17th, the day a peaceful protest had been summoned in Parque de las Comunicaciones, Havana, calling for respect for the community network "SNET" and its integrity and autonomy; a whole "underground" movement of security forces stopped there from being any kind of protest. Journalists and activists living in Havana weren't allowed to leave their homes or were arrested as soon as they arrived in the park.
Three basic questions

In the face of these events, which are becoming more and more public due to Cuban society's better access to the Internet, several questions immediately come to mind.
The first and most common one: Can Cuban police officers or State Security agents take these actions against citizens?
The answer is simple. Cuban police and State Security forces have way too much power.
Second question: In keeping with Cuba's legal system, under what circumstances are a citizen's arrest justified?
The police can only take action if an alleged crime has taken place. When police authorities learn that a crime has been committed, they can legally arrest the suspect and carry out procedures to prove their guilt. These procedures include taking statements from witnesses and suspects and finding the instruments that were used to commit the crime.
In order for an arrest to be considered legitimate, a complaint needs to be officially filed. There are exceptions to this rule, such as when a criminal is arrested in fraganti. However, an arrest under these circumstances does not make it exempt from immediately filing a report, as an essential requirement to begin investigating.
Filing a complaint is the documentary proof that the authorities need to take action. Proof of the existence of a record that justifies legal procedures, that establishes investigation obligations and the police's respect of human rights and the investigation and control of bodies responsible for ensuring they act within the Law.
Without a report, there is no criminal proceeding, without a criminal proceeding there is no suspect, without a suspect, there can be no arrest.
Neither Jesus Jank, nor Yoe Suarez, or Ricardo Fernandez, or any journalist or activist who weren't allowed to leave their homes the day of the SNET protest, were officially arrested. Some were "called in to talk", mandatorily, one of them was "held" while waiting to be "deported" in his own country and others were simply "advised" not to leave their homes, so they wouldn't "be taken in to talk", mandatorily.
Let's speak straight: THEY ALL suffered, in one way or another, the restriction of one of humans' most important rights, which can only be taken away after a criminal trial generally-speaking: FREEDOM.
A third question: Is there a law that justifes this kind of action by the police and State Security forces?
Most of the police's and State Security's power is exercised without being regulated. There isn't a public law that oversees the Police's or State Security's relationship with civilians.
Procedures such as personal searches in public or civil rights when there are violations on their private lives, are rarely every regulated and only respond to the Ministry of Interior's internal regulations, which appeal to ethics more than legality.
For a few years now, the Cuban government has announced that it was working on drafting a Police Bill, but it hasn't been promulgated yet.
In the face of this lack of regulation, we are only left with postulates in the Criminal Proceeding Act to assess the legality or legitimacy of the procedures described in this article.
Warnings or threats?

The lack of clear laws (a haziness that the authorities' use at their own discretion) was what allowed Jank and Yoe to be arrested unofficially. The record of both of these incidents is a Warning Record, which states the "citizen's" commitment to not practice journalism.
The main objective of this document is to serve as proof of the "dialogue" that took place between the authorities and the citizen and the "dangerousness" he/she poses to society, if they are unable to abide by the correctional opportunities the officers gave them.
However, the underlying and true objective of warning documents is to intimidate and get rid of critical journalism. What they really want is to silence the voice of those who aren't limited by the Constitution to speak their truth, but aren't "allowed" to spread their message either.
Jesus Jank Curbelo's work equipment weren't confiscated, but all of the information on his devices was wiped clean.
By eliminating this content, they not only got rid of photos, videos and witness accounts, but also the very content of the "crime" and their only chance of proving the alleged criminality of someone who was, theoretically-speaking, "usurping a capacity they weren't skilled for."
Cuba's Criminal Code doesn't allow the authorities to stop investigating a crime after they learn about a criminal offense (only libel and slander are not criminal offenses) and if they determine the accused of being accountable, they have to punish him/her. The authorities definitely cannot get rid of evidence of the crime and change to a mere "Warning".
"Exercising violence against another, without any legitimate reason, threatening another person, or tolerating another person doing this, to do something that they don't want to, whether it's fair or unfair, or stopping them from doing something the Law doesn't prohibit them," is a crime. It's called "coercion".
Jank was forced to stay within a lobby and to go into an interrogation room, without being arrested or charged. Under the threat of being sent to a jail cell, he was invited to sign a document he didn't want to sign and which he wasn't obligated to.
Jank signed because he was afraid, a fear which well has its grounds.